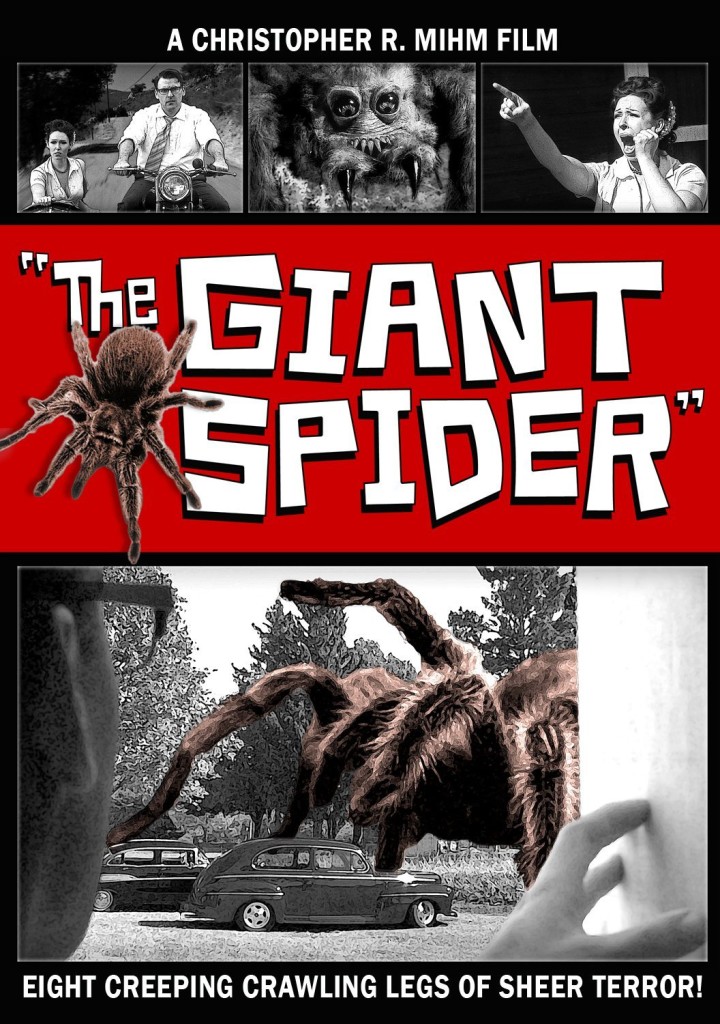 ALL PROCEEDS FROM THIS EVENT PAY THE FEES FOR FANS FOR LIVING TO BECOME A NON-PROFIT ORGANIZATION PROVIDING VISUAL ARTS EDUCATION TO KIDS IN CHICAGO!!!
Co-Presented by Chicago Cinema Society and Fans For Living.
Fans For Living Screening Room
920 W. Wilson Ave
Chicago Illinois 60640
$6 at the door.
Show starts at 7 pm Doors open at 6:30
Double Feature of The Giant Spider," and "Terror from Beneath the Earth" With a Director Christopher Mihm Q&A!
Giant Spider head available for photos!
CAUTION This event is BYOI (Bring Your Own Insecticide)
Christopher R. Mihm is the writer, director, and producer of the films of the "Mihmiverse," a series of award winning, loosely interlinked feature-length films styled after 1950s-era "drive-in cinema."
Mr. Mihm's filmmaking career officially began in 2006 with the release of his first retro-styled film, "The Monster of Phantom Lake." Made on a nearly non-existent budget, the film went on to garner much critical acclaim, appear in many film festivals, win multiple awards, and, to this day, continues to screen across the world.
Since "The Monster of Phantom Lake," Mr. Mihm has released one new as-authentic-as-possible 1950s-style feature a year, many of which have received numerous accolades, nominations, and awards. His sixth film, "Attack of the Moon Zombies," raked in the most "2011 Dead Letter Awards" at mailorderzombie.com. "House of Ghosts," Mr. Mihm's tribute to the films of classic horror master William Castle, won the coveted Rondo Hatton Classic Horror Award for "Best Independent Feature" and the "Best Action/Horror Feature" award at the Highway 61 Film Festival.
Christopher R. Mihm has been featured in many publications, both online and off, including SCI-FI Magazine, Screem, and Scary Monsters Magazine. Mr. Mihm was the recipient of the first-ever "Roger & Julie Corman Intrepid Filmmaker" award at the 37th annual ValleyCON in Fargo, ND and won the "Best Director" award from mailorderzombie.com.
Mr. Mihm's latest film, "The Giant Spider," a tribute to the "giant bug" films of the 1950s, premiered in the Twin Cities on May 22nd, 2013 and has been earning rave reviews ever since!
RSVP at the Facebook event page here: https://www.facebook.com/events/637425062944502/