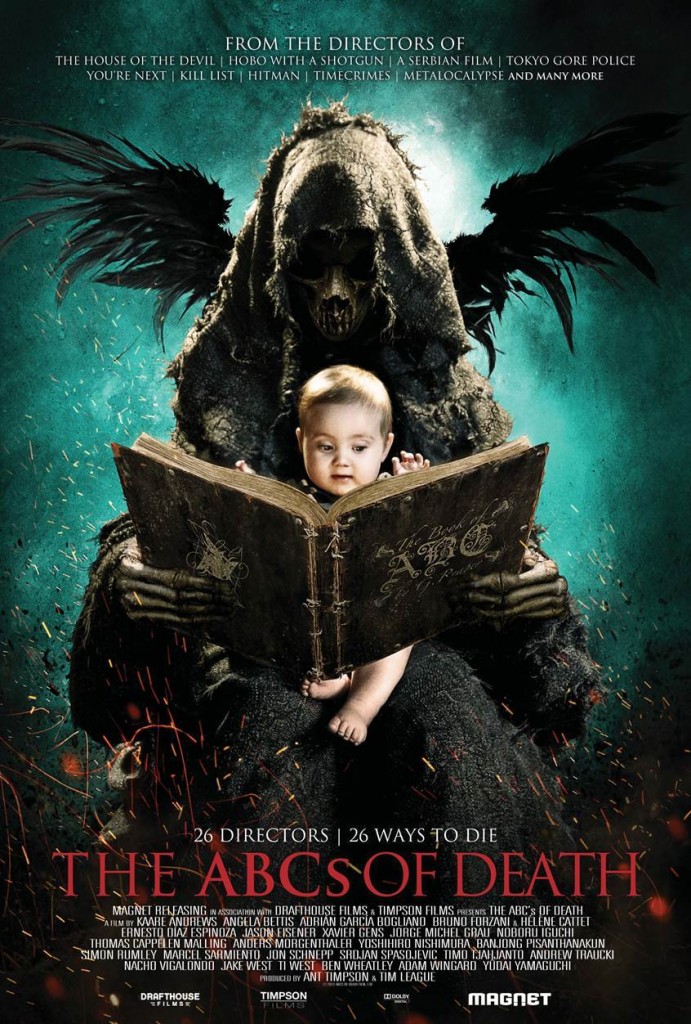 The Chicago Cinema Society, in partnership with our lovely friends at the Logan Theatre, will be presenting one of the most anticipated genre titles of 2013: THE ABCs OF DEATH! We will be screening ABCs for two weekends: March 8th-9th and 15th-16th.
Twenty-six directors. Twenty-six ways to die. The ABC's OF DEATH is perhaps the most ambitious anthology film ever conceived with productions spanning fifteen countries and featuring segments directed by over two dozen of the world's leading talents in contemporary genre film. Inspired by children's educational books, the motion picture is comprised of twenty-six individual chapters, each helmed by a different director assigned a letter of the alphabet. The directors were then given free reign in choosing a word to create a story involving death.
Provocative, shocking, funny and ultimately confrontational, THE ABC's OF DEATH is the definitive vision of modern horror diversity. Drafthouse Films, Magnet Pictures and Timpson Films are proud to present this alphabetical arsenal of destruction orchestrated by what Fangoria calls "a stunning roll call of some of the most exciting names in horror across the world."
The directors, along with previous projects, are:
Kaare Andrews (Dir of ALTITUDE.  Also a comic book writer and artist)
Simon Barrett (Writer of YOU'RE NEXT, A HORRIBLE WAY TO DAY, V/H/S)
Angela Bettis (Dir of ROMAN. Actress in MAY, THE WOMAN, CARRIE (2002))
Adrián García Bogliano (Dir of PENUMBRA , COLD SWEAT)
Hélène Cattet (Dir of AMER)
Jason Eisener (Dir of HOBO WITH A SHOTGUN)
Ernesto Díaz Espinoza (Dir of MIRAGEMAN, MANDRILL)
Bruno Forzani (Dir of AMER)
Xavier Gens (Dir of HITMAN, FRONTIERE(S), THE DIVIDE)
Jorge Michel Grau (Dir of WE ARE WHAT WE ARE)
Lee Hardcastle (Winner of the 26th director competition for "T is for Toilet")
Noburo Iguchi (Dir of THE MACHINE GIRL, ROBOGEISHA, KARATE ROBO ZABORGAR, ZOMBIE ASS)
Thomas Cappelen Malling (Dir of NORWEIGIAN NINJA)
Anders Morgenthaler (Dir of PRINCESS, THE APPLE & THE WORM)
Yoshihiro Nishimura (Dir of TOKYO GORE POLICE, MEATBALL MACHINE, HELLDRIVER)
Banjong Pisanthanakun (Dir of SHUTTER, ALONE, 4BIA)
Simon Rumley (Dir of RED, WHITE & BLUE; THE LIVING AND THE DEAD)
Marcel Sarmiento (Dir of DEADGIRL)
Jon Schnepp (Dir of METALOCALYPSE)
Srdjan Spasojevic (Dir of A SERBIAN FILM)
Timo Tjahjanto (Dir of MACABRE)
Andrew Traucki (Dir of THE REEF, BLACK WATER)
Nacho Vigalondo (Dir of TIMECRIMES, EXTRATERRESTRIAL)
Jake West (Dir of DOGHOUSE, RAZOR BLADE SMILE, EVIL ALIENS)
Ti West (Dir of HOUSE OF THE DEVIL, THE INNKEEPERS, V/H/S)
Ben Wheatley (Dir of KILL LIST, DOWN TERRACE)
Adam Wingard (Dir of YOU'RE NEXT, POP SKULL, A HORRIBLE WAY TO DIE, V/H/S)
Yûdai Yamaguchi (BATTLEFIELD BASEBALL, YAKUZA WEAPON)
Check out the WAY NOT SAFE FOR WORK trailer below. MARCH 8th, 9th, 15th and 16th AT THE LOGAN THEATRE, BE THERE!!!!!!!!
http://youtu.be/QWCwwCmOuEg