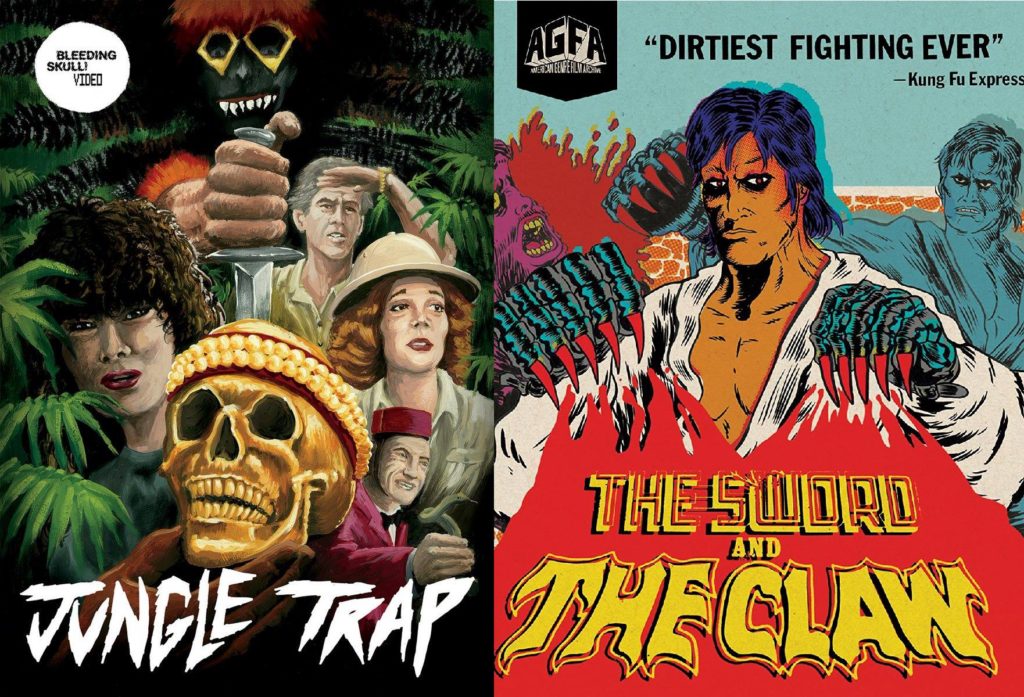 The Chicago Cinema Society in association with the American Genre Film Archive (AGFA) and Bleeding Skull! brings a wild double feature of cult insanity to Chicago Filmmakers for one night only! CCS co-director Jason Coffman recently published a book of his collected film reviews, THE UNREPENTANT CINEPHILE, and we're celebrating with two of the most insanely entertaining films recently released by AGFA and Bleeding Skull!
JUNGLE TRAP is a shot-on-video horror movie about a group of researchers who run into supernatural unpleasantness at a mysterious hotel deep in the jungles of South America. Shot in 1990, JUNGLE TRAP was never completed until Bleeding Skull worked with director James Bryan to finish and release the film over 25 years later! THE SWORD AND THE CLAW (aka LIONMAN) is an out-of-control action epic starring Turkish action superstar Cüneyt Arkin as a man raised by lions who must lead a resistance to overthrow his kingdom's brutal overlord. Released in the United States in 1982 by William Mishkin–the same distributor who produced nearly all of cult legend Andy Milligan's deranged oeuvre–LIONMAN was retitled and given a bizarre English dub track that only enhances the feeling of sanity-breaking unreality already inherent in the movie.
JUNGLE TRAP description from Bleeding Skull!:
Shot in 1990 and unreleased until THIS VERY MOMENT. The final collaboration between exploitation demigods James Bryan (DON'T GO IN THE WOODS) and the late Renee Harmon (FROZEN SCREAM), JUNGLE TRAP is a decapitation-fueled, shot-on-video horror masterpiece about a jungle hotel haunted by kill-crazy ghosts in loin cloths. The movie remained unedited, unscored, and unseen by human eyes for over two decades . . . UNTIL NOW. Under Bryan's guidance, the Bleeding Skull! team meticulously edited the movie and recorded a soundtrack utilizing vintage 1980s synthesizers. For the first time ever, Bryan and Harmon's raging slab of anti-sanity can be deeply enjoyed by the world's most adventurous viewers. That's you.
THE SWORD AND THE CLAW description from AGFA:
Before the infamous TURKISH STAR WARS — there was 1975's THE SWORD AND THE CLAW! AGFA's latest preservation is a wild ride through that same hallucinogenic netherworld, and features genre legend Cüneyt Arkin in his most iconic role. This is CONAN THE BARBARIAN meets The Three Stooges meets DOLEMITE — with more lo-fi bloodshed, pop-art visuals and lunatic dubbing than the boundaries of reality can handle.
Jason Coffman will give a brief introduction to both films and copies of THE UNREPENTANT CINEPHILE–which covers over 800 cult, exploitation, horror, and independent films–will be available for purchase for the ludicrously low price of $10! Don't miss this once-in-a-lifetime double feature of finely curated paracinema! More information on his book here:
THE UNREPENTANT CINEPHILE on Amazon:
Paperback: https://www.amazon.com/dp/1520832931
Ebook: https://www.amazon.com/dp/B01KYHLVUQ
When and where you might ask? Here is all the information:
Date: February 17 2018
Time: 7:00 p.m.
Location (our first screening at the new CF location!):
Chicago Filmmakers
5720 N. Ridge Avenue
773-293-1447
www.chicagofilmmakers.org
Price: $10
Looking forward to seeing you all there!