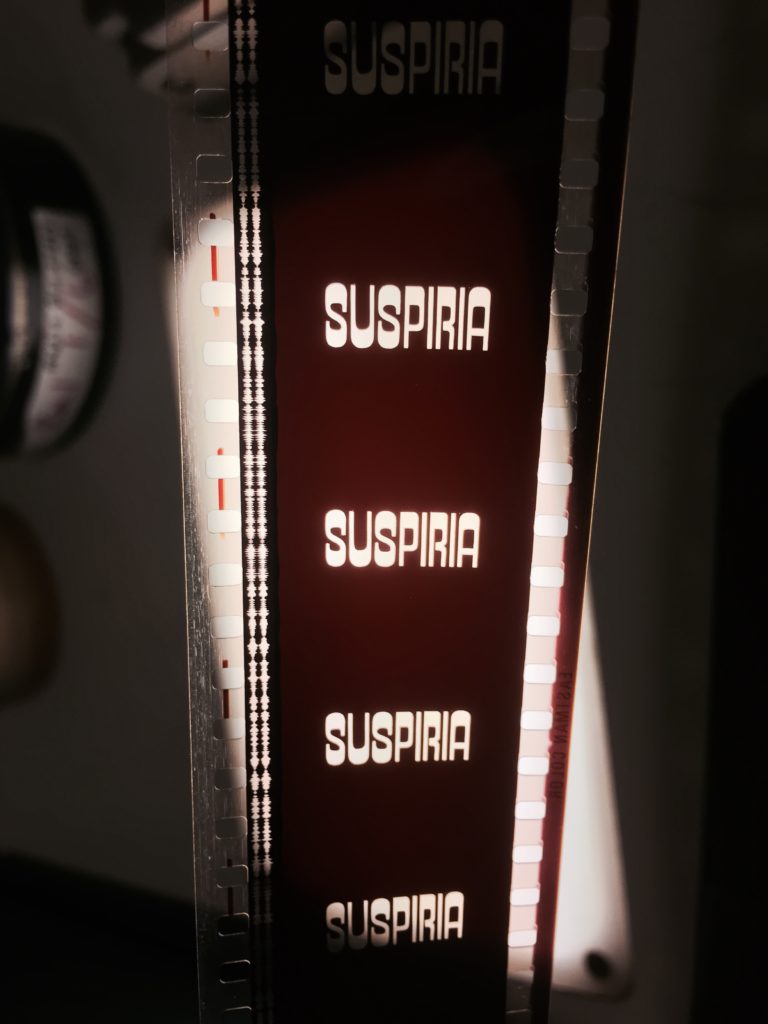 The Chicago Cinema Society is excited to announce that we have discovered an uncut Italian 35mm print of Suspiria. The print was rescued from an Italian cinema that had closed down and the print had gone untouched in their storage area since 1977/78. After a brief inspection to assess the overall condition of the print, it appears as if it had only been screened a handful of times at most. The print is in excellent physical condition with no substantial wear, uncut heads and tails, minimal fading and no vinegar syndrome. Once we had the print in our film archive, we then made a very careful inspection to determine which version of Suspiria we had obtained. We were stunned to find that the print is a completely uncut 6 reel print with a run time of 98 minutes in Italian language. We then privately screened the print and recorded excerpts, which can be found on our YouTube channel, to give people a better sense of what the print actually looks like. Here a clip which includes one of the more notorious cut scenes (pun intended) that does not exist in 1977 US release prints:
We reached out to Don May at Synapse Films to see if they would be in need of our print for restoration purposes. He noted to us that they have all of the film elements that they need for their upcoming digital restoration. We then shared information on our discovery with a number of film programmers across the country, many of whom had become very interested in screening the print. Since preservation elements for Suspiria exist, we arranged a tour for our print to start late this summer. More venues have reached out to us with interest in screening our print so follow Chicago Cinema Society on Facebook and check in at our website for updates and the additions of any other screening dates. Do not miss out on this opportunity to see Suspiria in the way that it was intended to be seen! As of the moment, our print of Suspiria is scheduled to screen, with projected subtitles (soft-subbing), at the following venues:
7/28 – 8/2/2017: The Metrograph, New York City, NY
8/11 – 8/13/2017: Roxie Theatre, San Francisco, CA
8/23 – 8/25/2017: Gateway Film Center, Columbus, OH
9/1/2017: The Denver Film Society, Denver, CO
9/7/2017: The Michigan Theater, Ann Arbor, MI
9/15+ 9/16/2017: The Belcourt Theatre, Nashville, TN
10/2/2017: The Egypitan Theatre (as part of Beyond Fest), Los Angeles, CA
10/14 + 10/17/2017: Coolidge Corner Theatre, Brookline, MA
10/26 – 10/27/2017: Northwest Film Forum, Seattle, WA
11/6/2017: Music Box Theatre (as part of Cinepocalypse), Chicago, IL
11/18/2017: Alamo Drafthouse, Littleton, CO
11/24/2017: Alamo Drafthouse, Yonkers, NY
12/1 – 12/3/2017: Northwest Film Center, Portland, OR
12/13/2017: Suy-Ray Cinema, Jacksonville, FL
1/12/2018: Cinema Arts Centre, Huntington, NY
1/18/2018: The Charles Theater, Baltimore, MD
1/27/2018: Hollywood Theater, Pittsburgh, PA
2/3/2018: Coral Gables Art Cinema, Miami, FL
2/17/2018: The Little Theatre, Rochester, NY
Stay tuned for more updates! Thanks!