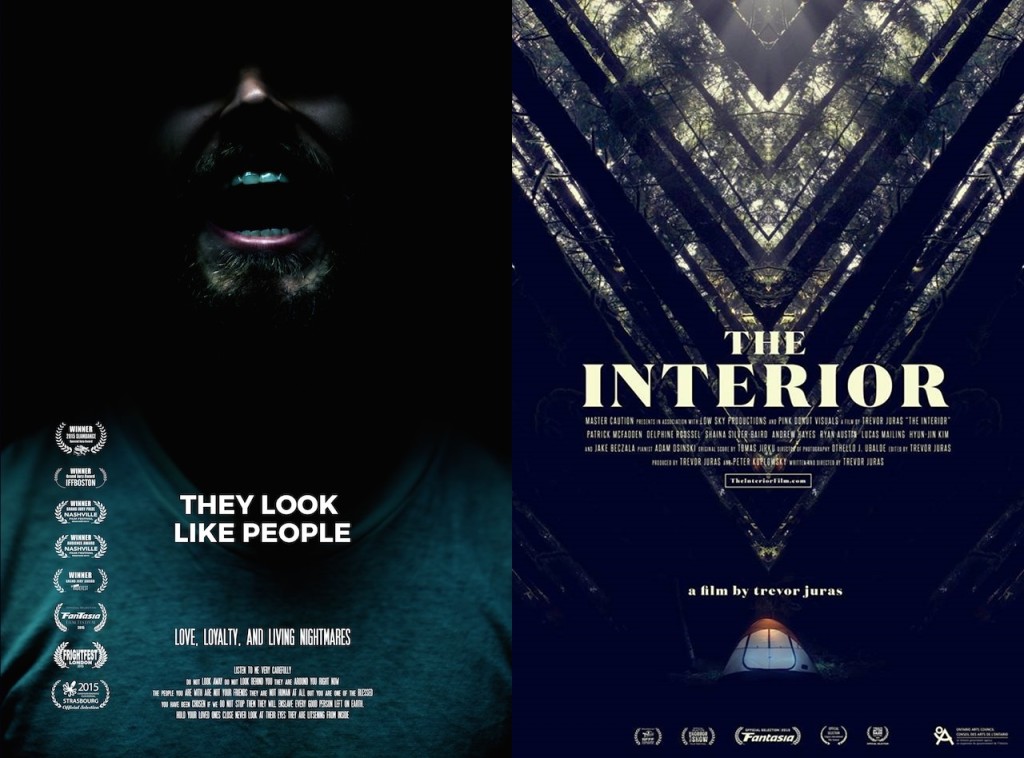 We are incredibly proud to be hosting a double feature for two of our most favorite independent genre films of 2015:
THEY LOOK LIKE PEOPLE
THE INTERIOR
Perry Blackshear and Trevor Juras, respectively, have tremendous directorial talent and are sure to go on to have magnificent careers in cinema! Be sure not to miss each of their debut features on February 19th and 21st at Chicago Filmmakers!
THEY LOOK LIKE PEOPLE
They look normal. But Wyatt knows that they're hiding their true form behind their human shells. These diabolical creatures have been secretly living among us since the beginning of time. The day of their uprising is fast approaching. Late one night, Wyatt receives a phone call warning him that these cunning spirits are planning to take over the Earth's population. Summoned to join this imminent war between good and evil, hardware stores now provide him with the weapons he'll need. If the need to kill should arise, he'll do so without hesitation. No one will be able to stop him, not even Christian, an old friend who's letting him stay in his apartment. Burdened with problems of his own, this anxious, career-driven straight shooter is completely oblivious to Wyatt's mission. He is aware, however, of his friend's increasingly strange behavior, which causes him to ultimately expect the worst. In order to save him, Chris will have to confront the Apocalypse that is threatening their friendship.
Perry Blackshear's THEY LOOK LIKE PEOPLE will freeze your blood from its very first scene. With the help of a simple yet terribly efficient concept, he plunges the viewer into an intensely brutal atmosphere of paranoia. Shying away from sensationalism, this first feature creates fear through silence as it recreates a daily reality identical to ours in which every town, every street and every house can potentially be hiding one of these evildoers. The ambiguity between sanity and lunacy, a recurrent theme of fantastic cinema, is approached unusually as the director sympathetically explores the ties that bind his characters. THEY LOOK LIKE PEOPLE combines horror film and human drama, exploring compassion and loyalty as it achieves the ultimate goal of being both spinetingling and heart-wrenching. — by Simon Laperrière
THE INTERIOR
James is fed up. Fed up with his lifestyle, his boss, his girlfriend. But mostly fed up with himself. To avoid a mental breakdown, this young man spontaneously decides to leave everything behind. First, he quits a high-paying career with promising prospects for a dead-end job. But that's not enough for James, who yearns for an urgent change of scenery. On the spur of the moment, he flees the chaotic city of Toronto and flies off to beautiful British Columbia. Once there, he discovers a subalpine forest and begins life as a hermit. He wanders aimlessly through the woods, sporadically breaking into cabins in hopes of finding a bit of food and booze. Cut off from civilization, he's still unable to escape from himself. He's also feeling observed by some disquieting predator. A man in a red jacket is spying on him, silently logging his every move. And when night falls, insanity kicks in.
Having followed film classes given by none other than Werner Herzog, talented Trevor Juras delivers an engaging first-feature christening with THE INTERIOR, an ambitious Canadian film divided in two disparately different acts. What first looks like mumblecore comedy suddenly turns into a powerful psychological thriller. The noise of city life is replaced by nature's heavy silence through which the protagonist's isolation is reflected. His anxiety becomes the viewer's as he sinks deeper into the magnificently intimidating woods. Itself a character in the film, the forest is filmed with such remarkable deftness as to give it the impression of reacting to James' psychological torments. Generating genuine moments of pure terror, THE INTERIOR follows a dreamlike experience in which reality capsizes into pure nightmare. — by Simon Laperrière
THEY LOOK LIKE PEOPLE (80mins)
THE INTERIOR (80mins)
Digital Projection
Location: Chicago Filmmakers
5243 N Clark St. 60640
Dates:
February 19th at 7:30pm
February 21st at 7:00pm
Ticket price: $9.00