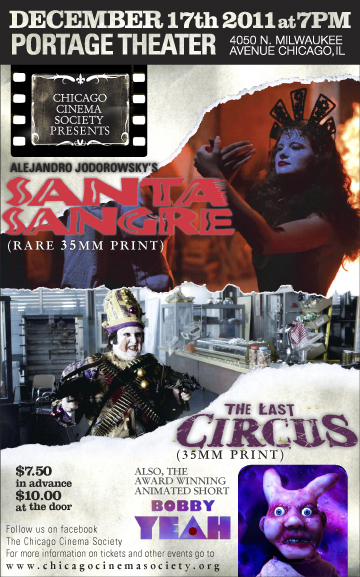 The Chicago Cinema Society, in conjunction with our friends at Magnet Releasing and Severin Films, present:
7:30pm: SANTA SANGRE (Dir: Alejandro Jodorowsky, very rare 35mm print, 123 mins)
9:45pm BOBBY YEAH (Dir: Robert Morgan, digital projection, 22mins)
10:15pm: THE LAST CIRCUS (Dir: Alex de la Iglesia, 35mm print, 107 mins)
$5.00 pre-sale tickets (SOLD OUT!)
$7.50 in advance (SOME STILL AVAILABLE)
$10.00 at the door (cash only at the door).
BUY YOUR TICKETS HERE!!:
http://chicagocinemasociety.eventbrite.com/
This event will take place at the Portage Theatre on December 17th 2011.
Doors Open at 7:00 pm Sharp!
Here are some brief details on the films with trailers in the posts below
SANTA SANGRE
The Chicago Cinema Society is very proud to present the only North American 35mm print of Alejandro Jodorowsky's masterpiece "Santa Sangre." A film which Roger Ebert cites in his 4 star review as "a throwback to the golden age, to the days when filmmakers had bold individual visions and were not timidly trying to duplicate the latest mass-market formulas."
BOBBY YEAH
Next, we will be presenting the wonderfully innovative animated short BOBBY YEAH by animator Robert Morgan. Bobby Yeah has won Best British Film at the London Animation Festival and Best Animated Short at the Fantasia International Film Festival. We are proud to provide this film with its Midwest Premiere.
BALADA TRISTE DE TROMPETA (THE LAST CIRCUS)

"The Last Circus" was awarded the Silver Lion prize for Best Director and Best Script at the 2010 Venice International Film Festival by Quentin Tarantino, President of the Jury. The film also received the bulk of the nominations at the Goya Awards – the most prominent film awards in Spain. It had been nominated in 15 categories including Best Film, Best Script, and Best Actor – to name just a few. The Chicago Cinema Society is proud to present the Chicago Theatrical (35mm print) Premiere of Alex de la Iglesia's incredible new film.
PLUS: Special Musical guests performing selections from the Santa Sangre & The Last Circus soundtracks.
PHOTOBOOTH by: GlitterGuts (www.glitterguts.com)
Free Parking at: Sears Lot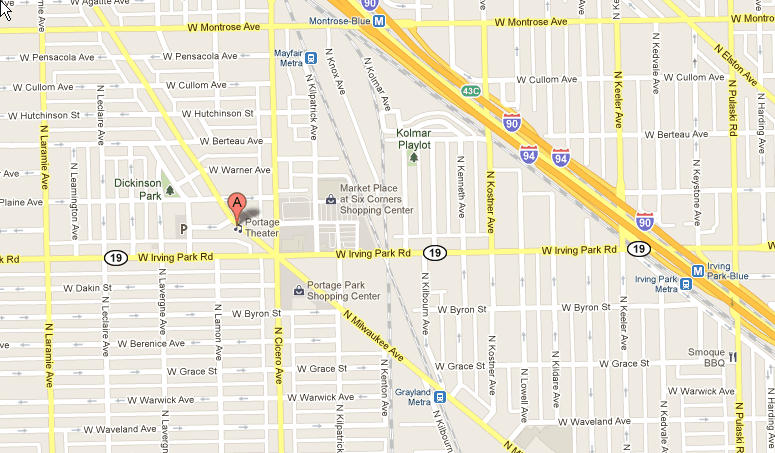 Please follow us on Facebook so as to stay up to date on this and other Chicago Cinema Society events:
http://www.facebook.com/pages/The-Chicago-Cinema-Society/263748943656981
and also follow us on twitter:
http://twitter.com/#!/CCinemaSociety